Believe it or not, mapping applications is a topic that often comes up when chatting with fellow travelers in hostels. And when out on a hike, I'm regularly asked "Is this the path?" by people I meet on the trail.
Without further ado, let's talk about 3 specific apps and then let's compare them.
Two famous so-so maps apps and a relatively unknown but great app
Google Maps is obviously the big one, that most people use as default and only map application. As you will see below, it's also absolutely awful when hiking is concerned.
Maps.me is much less known by the average user, but when talking with fellow travelers who use an app other than Google maps, this is the one that is mentioned 99% of the time. It is much better than Google Maps (that's a low bar), but not as good as its popularity would imply.
Enter Mapy.cz, a Czech app (available in English) already very popular in the Czech Republic but understandably very little known abroad. I've mentioned it countless times to international travelers, though, so it's better known now than it would otherwise be 😉 It is by far the best of the three (and any other I've ever seen). And let me be clear, I'm in no way affiliated with them and get nothing in return for this post, which nobody even knows I'm writing. I'm just a very happy user. The app is also available under the name Windy Maps, with identical map data.
Maps side-by-side comparison
Enough talk, let's take a look at some maps of just a few places where I've hiked in the past couple of years.
All screenshot have been made today April 12, 2021 with the most recent updates of each app/maps, and always zoomed enough to show the best trails details that each app can display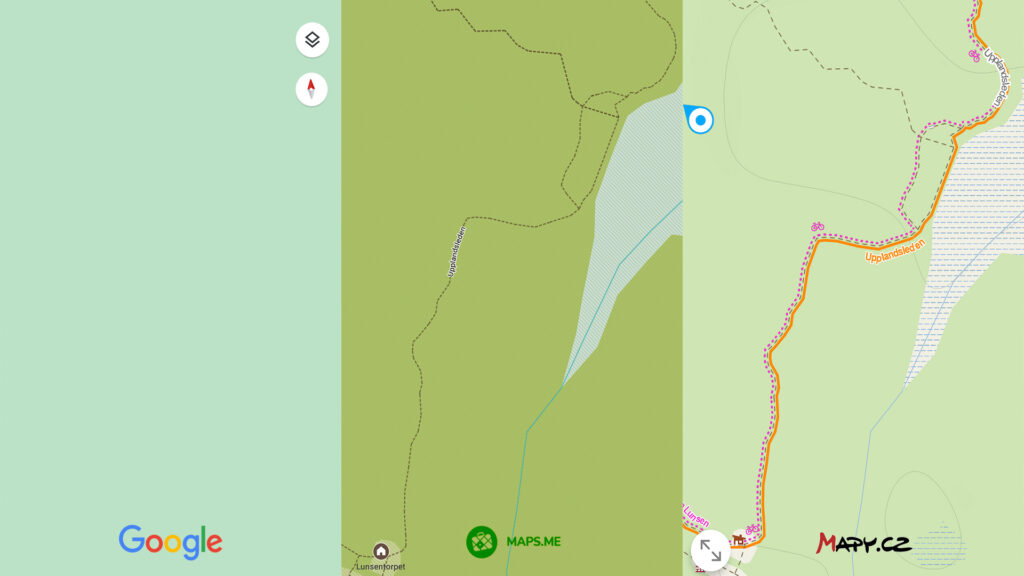 From the get-go, Google is clearly out of the race. As useful as it may be for giving driving directions, it's very often completely useless for hiking.
Maps.me usually displays as many hiking trails and paths as Mapy.cz, though as you can see in the map below, there's a path/road missing to the east of the pond in the bottom-left corner.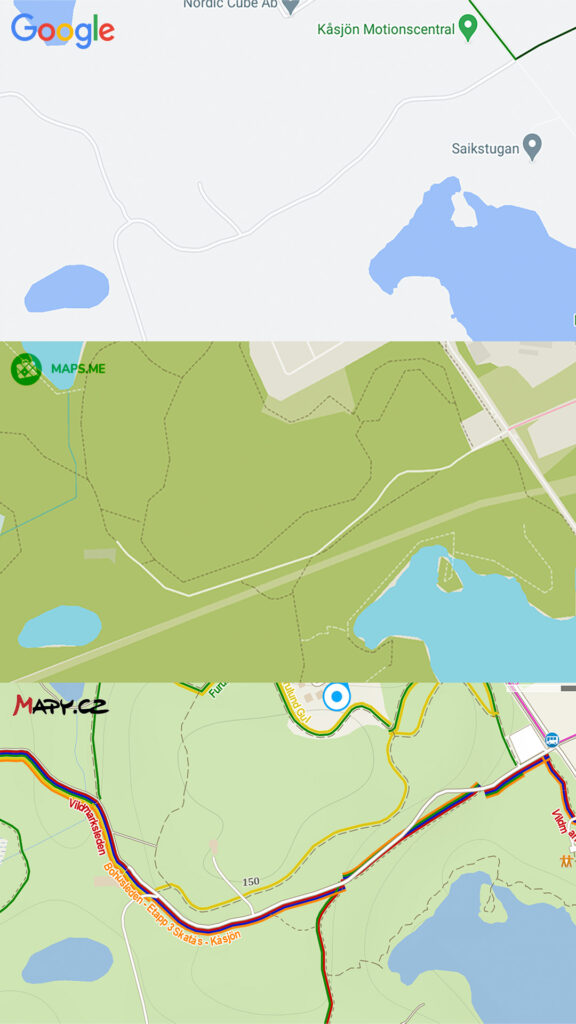 What I like most about Mapy.cz is the coloured hiking and bicycle path (clearly indicated, as in the map below). As far as I've been able to see myself, those colors are always the ones used on the actual trail blazes (markings) and on local tourist maps, so following a specific trail is a breeze.
And another great thing is the large amount of displayed landmarks. You can tap on the icons to see some details (at least the name) and, when available, pictures uploaded by users. This is very useful when planning for a little hike with a "purpose", or a family trip.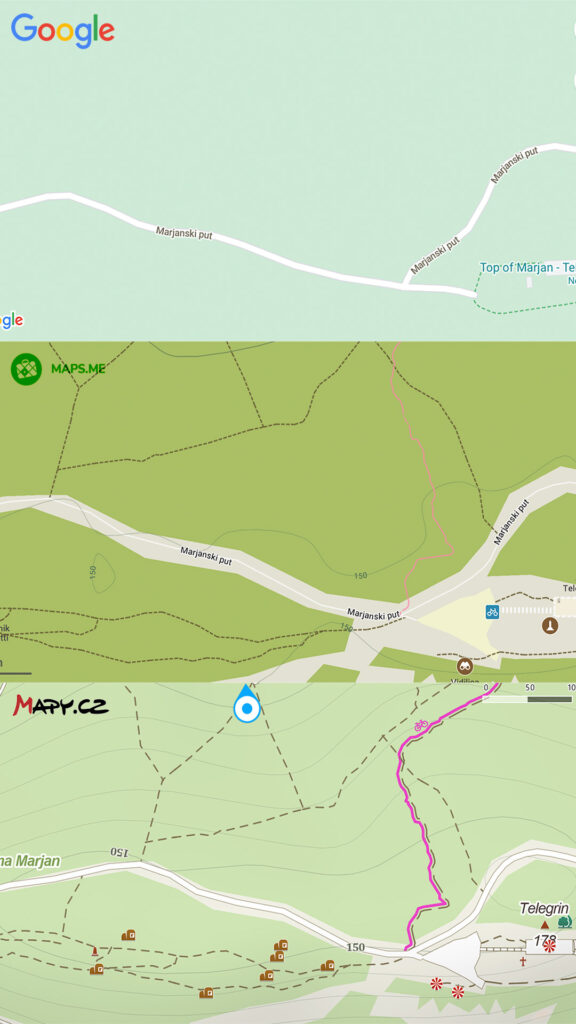 Unlike Maps.me, Mapy.cz displays trails and paths in different ways (dotted, white line, etc…), which usually allows you to guess where you'll be walking, from a small trail to a wide, well-maintained path.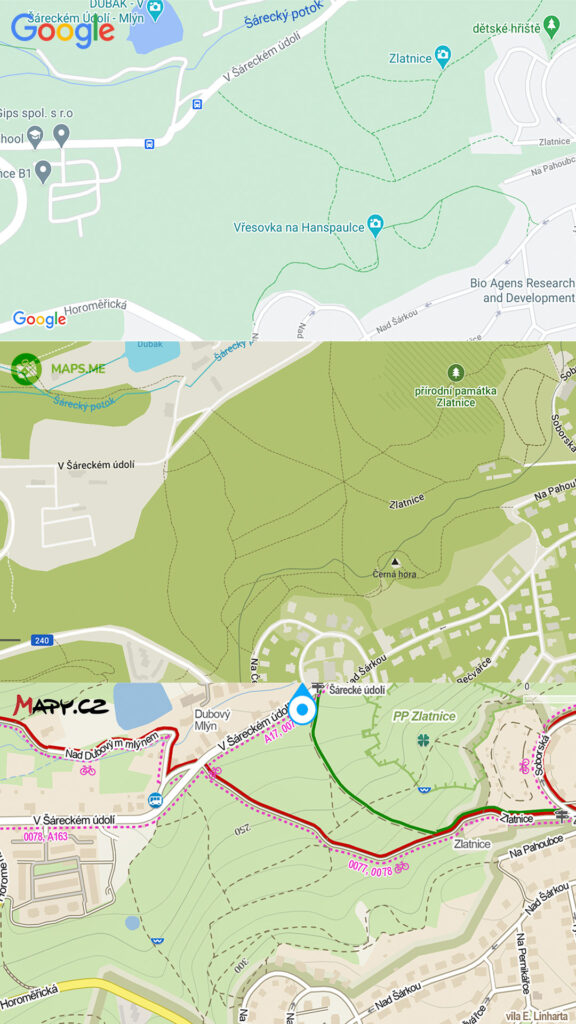 The topographic info is often more detailed on Mapy.cz, with more contour lines, for instance, which gives you a better understanding of the difficulty of the terrain.
Last but not least, Mapy.cz allows you to download maps for offline use or load them as you need. Maps.me, on the other end, forces you to download full maps and will not display anything otherwise. While it's recommended to download maps to save on data and avoid getting lost even if you are somewhere without internet access, it can be annoying to be forced to download a full map if you just happen to wander somewhere without having planned it, and want to quickly check where you are.
The best mapping app
I could have gone on and on with more examples from Slovenia, Belgium, Germany, Poland and other countries I've visited, but the pattern is always identical: useless Google Maps, good Maps.me, great Mapy.cz.
From what I understand, both those apps use data from public domain, user-contributed maps such as OpenStreetMap and OpenCycleMap, but Mapy.cz displays more information and in a smarter way, including with the colored trails and paths.
Despite the quantity of information displayed onscreen, thanks to the colors and different kinds of paths, I find the maps actually easier to read than the less complete Maps.me ones.
There are of course still places where even Mapy.cz doesn't have trail data (such as in northern Sweden), but from my experience and many tests, if it's not there, it's not on Maps.me either.
It is possible, though not certain, that some commercial mapping application are as good, or even better, but at least as far as free applications are concerned, you'd be hard-pressed to find a better one.
With warmer days coming and outdoors activities resuming, I highly recommend you to get it. Just search for "mapy.cz" or "Windy Maps" in the Play/App Store or visit their website.
Let me know if you start using it and share your opinion in the comments below.