One of my favorite places in Prague, the Franciscan garden (Františkánská zahrada) is a little-known oasis right in the middle of the city, completely surrounded by buildings and very close to Jungmann Square and Wenceslas Square. It is a place that many local residents also like and, when spring comes, some people working nearby come here at lunch time to enjoy the relaxing atmosphere.
The streets surrounding the block are very busy, but here it's often so quiet that you can hear birds chirping.
Despite its location in a bustling neighborhood, very few tourists ever venture there, because its access gates are kind of hidden at the end of commercial passages or behind what, at first look, seem like private entrances.
(see map below for the locations and pictures of those entrances)
The garden was established as utility garden for the nearby monastery, originally of the Carmelite order, that was founded there in 1347.

The church of Our Lady of the Snows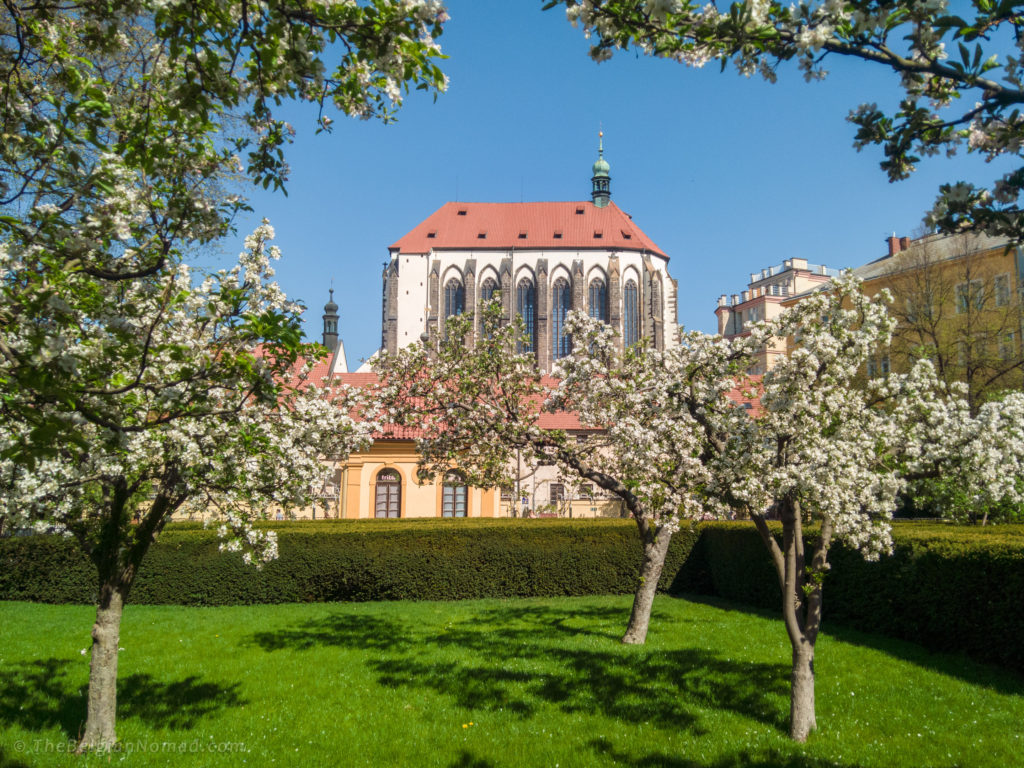 The church of Our Lady of the Snows (Kostel Panny Marie Sněžné), seen at the edge of the garden, was built at the same time as the monastery and has one of the tallest vaults in Prague, at 34 m (112 ft). It was supposed to be the second biggest church in Prague after St. Vitus Cathedral, but construction was interrupted during the Hussite Wars and it was never completed, the current building consisting only of the presbytery of the church.
Your favorite hidden place?
Do you have a favorite place somewhere, largely unknown and ignored by tourists despite being in a central location?
Share with us in the comment section below.