What started in the early 1980s with paintings of gnomes defacing communist propaganda has turned into an invasion.
Hundreds of bronze gnomes are going about their activities everywhere in Wrocław: working, doing business, playing music, napping, watching TV,…
Peacefully protesting Soviet influence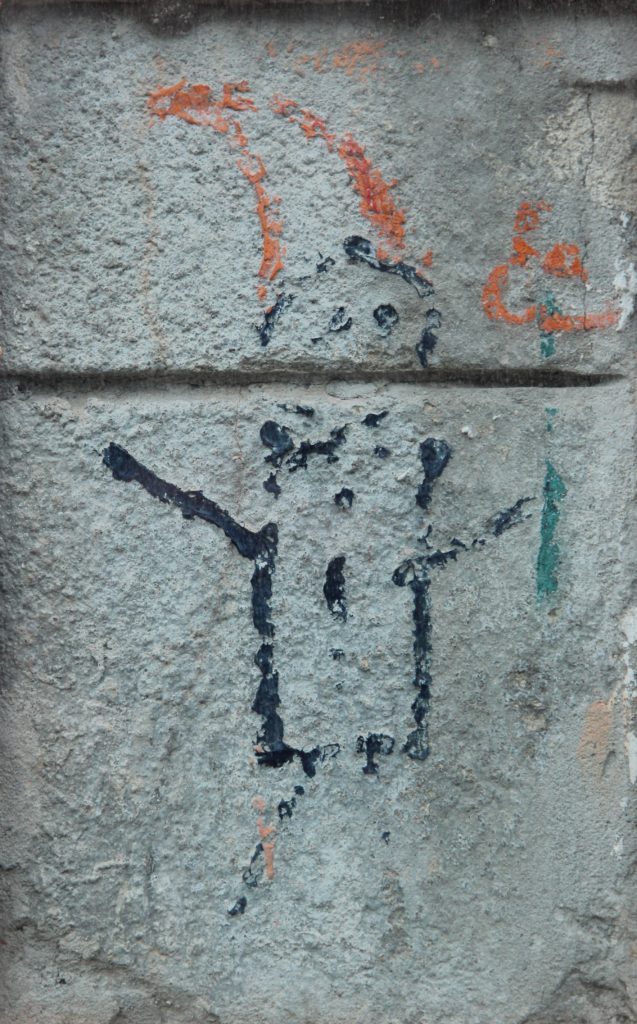 During the period of martial law in Poland, from 1981 to 1983, the anti-Soviet resistance movement called Orange Alternative peacefully protested the government's censorship of free speech and public gathering. Their weapon of choice was a spray can, and they started painting dwarves to give people something to laugh at, and encourage them not to be afraid.
This way of protesting became popular throughout the whole country and over than one thousand of such graffiti were painted there and in other major Polish cities such as Kraków, Warsaw, Łódź, and Gdańsk.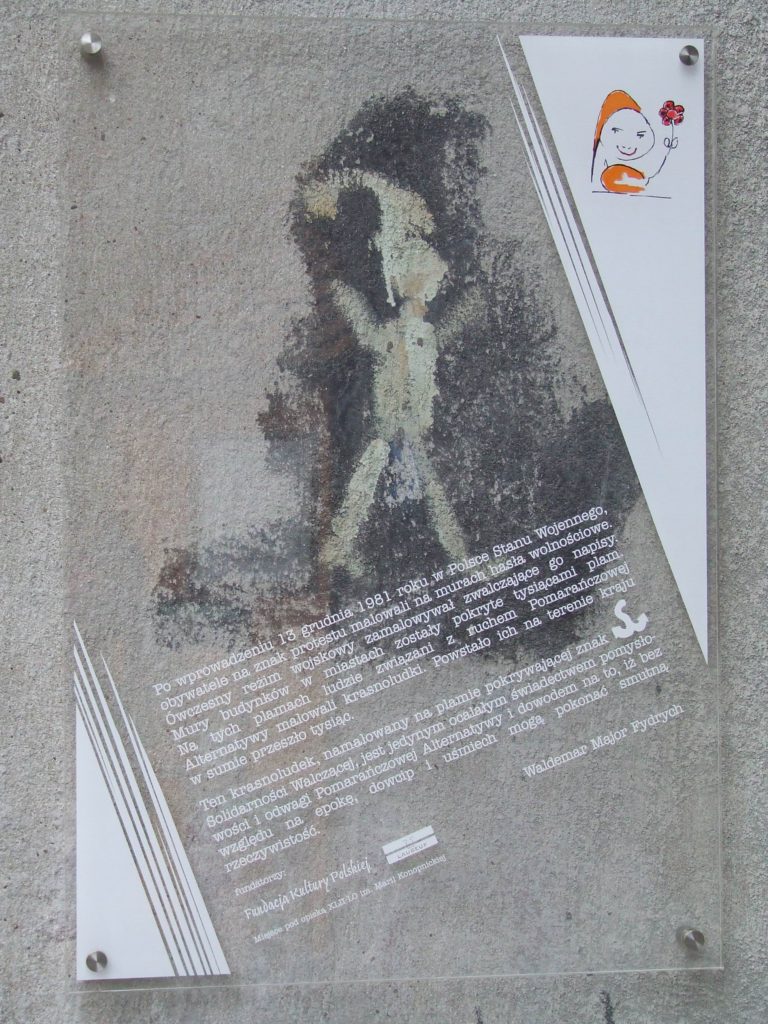 Then, on June 1st, 1988, ten thousands of protesters met in downtown Wrocław chanting 'Freedom to the dwarves!" and wearing orange cone-shaped hats.
There is only surviving original dwarf drawing created by the Orange Alternative in Wrocław, pictured above, located at St. Smoluchowskiego 22.
Likewise, there is only one remaining in Warsaw, seen here.
From drawings to statues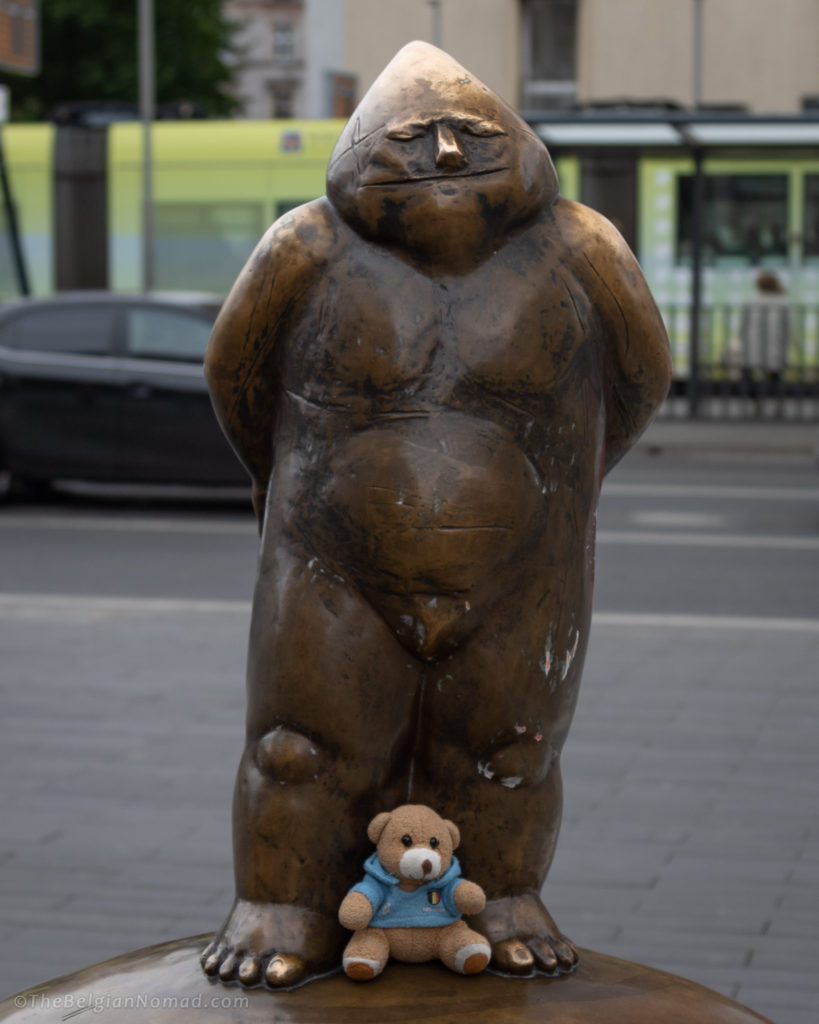 More than a decade later, in 2001, the city decided to commemorate the peaceful rebellion by commissioning a statue of a large dwarf, called Papa Dwarf, placing it where members of the Orange Alternative used to meet, on Świdnicka street.
A few years later, sculptor Tomasz Moczek had the idea to create small dwarfs and place them around the city. The city commissioned 5 of those, and it soon snowballed into a huge phenomenon.
While Tomasz Moczek has himself created more than one 100 dwarves, other sculptors have joined in over the year and now you can find more than 400 dwarfs in the streets of Wrocław, on the sidewalks and hanging from poles, on windows shops and inside stores or offices, they are everywhere.
The Wrocław dwarfs map
On a recent trip to Wrocław, I was constantly on the lookout for those little bronze dwarfs and took selfies with them.
From just taking pictures with some dwarfs, my goal quickly became to create a Wrocław dwarves map, as complete and accurate as possible, so you can easily locate and hunt them down when you visit that beautiful city.
I managed to locate and take pictures of 214 dwarves in 160 locations. I also added another 158 possible locations, based on the outdated map from the tourism office (there are so many dwarfs that they can't keep up) and different online resources, most of them mapping only a few dozen of them.
While most stay in place, sometimes dwarfs are moved (when they belong to a business, for instance) or, unfortunately, stolen. I've found two instances of dwarfs that should have been in some place, with pictures allowing me to find the exact spots, but they weren't there anymore. I've added pins to my map anyway (in black), for reference. So, just in case you've seen references to them somewhere else, you won't have to bother looking for those lost dwarfs 😉
If you have precise locations and pictures (no selfies, please!) of other dwarfs to add to this map, please contact me.
Credit will be given in the description of each contributed picture.